Double Sealing Valves
Double Sealing Single Valve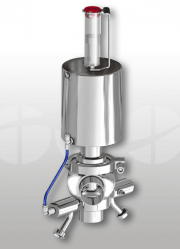 Single Seat Double Sealing Valves
Kieselmann single seat double sealing valve of the KI-DS series score with their modular construction in a modular system which can be extended according to application-specific requirements. The drivers are universary applicable as for the function is either air-to-open/spring-to-close, by simply turning the drivers.
Field of applications
The single valves are utilised as a pneumatically controled shut-off valve in food and beverage as well as in pharmaceutical, biotechnological and chemical industries.